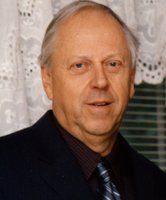 Lorne Edward Thompson
Lorne left us unexpectedly in the afternoon of December 24, 2018, at the age of 77, surrounded by his wife and children.
The only child of Lyle and Velma Thompson of Mount Brydges, Lorne is survived by his wife of 52 years, Barbara, and three children (Chris and wife Antonella, Sarah and wife Katherine and Robert and wife Jennifer Hale).
Having grown up on a farm near Delaware, Lorne was a lifetime fan of the Cleveland Indians and baseball in general, first as a spectator, listening on radio and later watching on TV, and then as a collector and coach.
A teacher at Lord Dorchester Secondary School in Dorchester for three decades, Lorne touched many lives during his time at the school, either while working in the automotive department or while coaching baseball in the community.
He will be greatly missed by his grandson, Liam, who spent countless hours sorting sports cards with his grandpa as well as his three granddaughters Sydney, Sofia and Vanessa, who loved swimming to the backyard pool under Lorne's watchful eyes.
At his request, there's no funeral service. Instead, friends, family, students and colleagues can remember Lorne at a memorial service held on Saturday, January 5 at the Dorchester United Church, 4100 Catherine Street, Dorchester from 2:00 p.m. until 5:00 p.m. with formal remembrances of Lorne at 3:00 p.m..
Lorne spent the second half of his life as a big fan of felines. With that in mind, memorial donations may be made in his name to the Human Society London and Middlesex, 624 Clarke Road, London, ON N5V 3K5.
Online condolences may be made at www.biemanfuneralhome.com
(Bieman Funeral Home, 3970 Hamilton Road, Dorchester, ON N0L 1G2 - (519)-268-7672 - in charge of arrangements.)