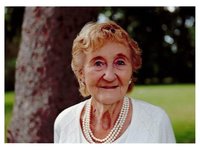 Greta Read
Suddenly at her residence on Sunday, July 15, 2018.
Greta Read (DeVries) of London (formerly of Dorchester) in her 89th year.
Wife of the late Cyril Read (2009).
Loving mother of Joe Read (Kathy) of London and Bob Read (Gabriele) of Georgetown, Texas.
Much loved grandmother of Joey Read, Samantha Koprowski (Darin), Sandra Da Costa (Bryan), Kristina Tambunga (Josh) and Larissa Read and great grandmother of Alexander, Matthew, Deakon and Taylor.
Also survived by numerous nieces, nephews and cousins.
Predeceased by a brother Rex DeVries (2009).
Cremation has taken place,
A private family memorial service was held at the Bieman Funeral Home, 3970 Hamilton Road, Dorchester.
Interment of cremated remains Dorchester Union Cemetery.
Memorial contributions to the Canadian National Institute for the Blind (CNIB), 749 Baseline Road E., London, ON N6C 2R6 would be appreciated.
Online condolences may be made at www.biemanfuneralhome.com